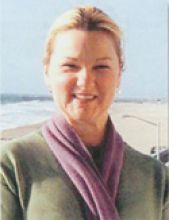 "Unbeknownst to many of her friends, Renee would have a blanket or bedspread started for them, part of a growing number of unfinished blankets. When asked once how she kept track of which one was for whom, she said, 'Oh, that's the easy part–the colors, pattern and design of each one match the recipient's home decor or favorite colors. I think of them when I am knitting. Finding time to finish them all is the hard part.' To have a hobby that you enjoy and it benefits others speaks volumes about Renee's unselfish nature and wisdom in knowing that in giving, you receive the best gift of all. To all of us who have one of Renee's special blankets, it is of great comfort to know that she left us something to warm us on a cold day and wrap around us like an enveloping hug." — David R. Spivock, fiance
Profile:
A month ago, he asked her to marry him. She said yes. And ever since, American Airlines flight attendant Renee A. May and David Spivock had been planning their wedding — and their life together.
Now Spivock is immersed in other details, the kind required for obituaries.
His 39-year-old fiancee, he begins, was born in Buffalo but grew up in California and graduated from San Diego State University with an English degree. Her parents and brothers still live out West. She loved to travel and had flown with American since 1986. She loved art and worked as a docent at the Walters Art Museum in Baltimore, not far from the 150-year-old row house she shared with her cat, Cheyenne, in the city's Federal Hill section.
She especially enjoyed giving museum tours to young visitors. "She was blessed with a sweet voice," Spivock recalled yesterday. "All children loved to be with her."
The Dulles-Los Angeles flight was her regular route. "She was a strong woman, and she always emphasized that she was a safety professional, and that's why was she was there," he said. But after 15 years in the air, May was planning to quit. Even the usual risks of flying had begun to wear.
"It worried her a lot. It worried me, too," Spivock said. He was talking, of course, about more mundane possibilities such as storms or engine problems — not hijackers acting on their hatred of the United States.
He is trying to dwell on her life, not her death. "She had beautiful blue eyes. She was just so alive. . . . She was the nicest person I [have] ever met.