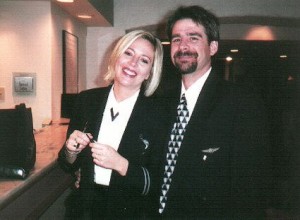 United flight attendants Amy King, 29, and her boyfriend, Michael Tarrou, 38, were working together aboard United Flight 175 on Sept. 11.
The two lounged together, planned a life together and even sang together–most recently with King contributing a backup "I love you" on a recording of "Couch Potato," a song written and performed by Tarrou.
"They were soulmates," said Tarrou's mother, Patricia, who took comfort from the fact that they could support each other one last time in the moments before the hijacked United flight struck the second tower of the World Trade Center.
"I know they were doing everything they could to help the passengers," she said. "Though I hope they were in each others' arms."
King and Tarrou had been together since meeting at work in the Boston area a few years before. They moved in together five months ago and lived in Stafford Springs, Conn.
On the horizon was another move, to Florida, so Tarrou could be closer to his 11-year-old daughter, Gina. Working as a flight attendant, despite the odd schedules, permitted long weekends devoted to his 6th-grade daughter, who talks now about her father's humor, the dances he would do just for her and about his being in a better place.
King and Tarrou both grew up in New York, had a love for flying, an interest in the arts and a deep loyalty to family and friends.
King grew up in Wantagh and lived with her sister, Debbie Lloyd, while based out of Chicago during the 1990s.
King was the youngest of three sisters, said Lloyd, but was the one with the most infectious personality. While based in Boston, she still visited Lloyd's children at least once a month, imbuing them with her playful sense of humor and easy laugh.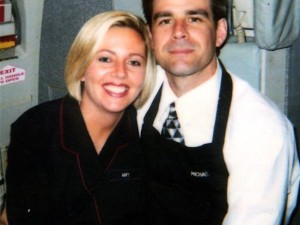 "She liked to imitate voices, children's voices. She was like a kid herself," Lloyd said, adding that it was clear Tarrou was "the one" for her younger sister. They wanted to have children, she said, and King hoped they would all see the world together one day.
Tarrou grew up in Long Island, one of four children. He had tried a few other careers, from composing music (he didn't like to perform) to repairing air conditioners. He went into the airline industry after getting tired of crawling in hot attics, his mother said.
"Flying represented the freedom of being up in the sky," said his father, James.