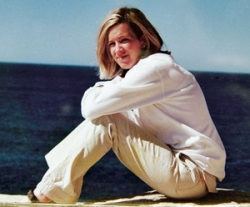 Amy N. Jarret, a flight attendant on United Airlines 175, loved to travel. But the 28-year-old Ms. Jarret also kept flying because it gave her the resources and free time to divide herself between Philadelphia, where her longtime boyfriend, Kyle Rusconi, lives and the home she shared with her father and two brothers in her native Rhode Island.
The men in Ms. Jarret's life marveled at her organizational skills. "When she was around, everything ran smoothly," said Marc Jarret, her brother.
"I told her she had to start thinking more about her own needs, but she liked taking care of others," said Mr. Rusconi, who met Ms. Jarret at the 1995 homecoming of their alma mater, Villanova University. She enjoyed slot machines and betting on racehorses, but fretted that she was spoiling herself if she was lured by a clothing sale.
"We assumed we would get married when it came time to have children," said Mr. Rusconi, who had recently completed a two- year job in Australia. "We just needed to be in the same place a little longer."