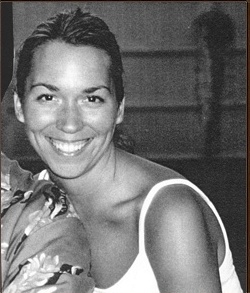 You can call just about anybody a people person. People who were close to Jean Rogér say they know this. But what can they do? It is, they say, the best way to describe her.
And it is why Ms. Rogér, who was 24, became a flight attendant two years ago after attending Penn State.
"After four and a half years of college, she wanted to be a flight attendant," said her father, Tom Rogér. "She enjoyed traveling and meeting people, from children to 90- year-old adults; she loved them all."
One person was especially important — her boyfriend, Kevin Dowd, a Boston-area stock broker whom she had been dating for about two years. The night before Ms. Rogér reported for duty on American Airlines' Flight 11 to Los Angeles she celebrated Mr. Dowd's 30th birthday, just the two of them strolling through Boston.
That night Ms. Rogér gave Mr. Dowd a card that, he said, summed up her general life philosophy. "She wished me to have love, happiness and peace of mind because really, everything else just comes and goes," Mr. Dowd said. Despite a late night, the following morning "she went to work with a smile on her face," Mr. Dowd said. "She was happy as could be."
Profile published in THE NEW YORK TIMES on December 29, 2001.
It was simple numbers that put Jean Roger on American Airlines Flight 11 out of Boston.
As a relatively new flight attendant, every third month the 24-year-old Roger was placed on a "standby" work list and had to call in every night to see if she was to be called up.
This past Monday she was on the list and had to be at the airport at 6:30 a.m. in case a flight attendant was needed.
"Someone called in sick and she had to go," said her father, Thomas.
Given the short notice of standby work, she typically didn't call her family until she arrived at her flight destination.
"That was the anxiety for us when we found out a plane had been hijacked. It took us three hours to find out she was in fact on the plane," Thomas Roger said. "I just feel so terrible for these people in New York who are waiting three or four days."
Roger was raised in Longmeadow, Mass., where she was a golfer and champion swimmer in high school.
She graduated from Penn State with a degree in environmental science, but after a family friend told her about the joys of being a flight attendant, Roger applied for the job two years ago.
"She loved it–the work, the schedule. It really suited her lifestyle," her father said. "And she loved going to strange places."