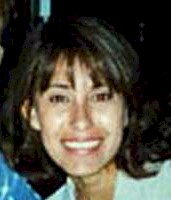 Barbara Jean Arestegui was 38 years old from Marstons Mills, Massachusetts. She was a flight attendant for American Airlines.
She was born on October 21st, 1962 in Hawthorne, California.
Far from Manhattan's twin towers, far from just about anywhere, she would stretch out on the floor by a wood fire, with three cats and tea and a James Taylor album going. There, in the village of Marstons Mills on Cape Cod, Barbara Jean Arestegui could collect herself, after her three days on duty as a flight attendant for American Airlines.
Bobbi Arestegui was an attendant for 13 years, knew one thing well: how to relax. She had a passion for animals and loved to cook.
On the Cape, she gathered the strength that made her the usual choice to handle any problem passenger. Ms. Arestegui, at a disarming 5-foot-3, could sit next to an overwrought traveler and listen for hours.
Bobbi loved her job and was extremely proud of her many accomplishments. Even when she was a little girl, one of her favorite pastimes was playing with her Barbie dolls and the "Barbie Dreamship" which for those of you who remember those old days, was a toy replica of an airline cockpit, and she would play for hours living vicariously through her Barbie as a flight attendant, so you see, even then, she knew exactly what she wanted to be when she grew up! When she fulfilled her dream, the first hub assigned to her was New York City.
On Sept. 11, she was up and out of the house at 3:30 a.m. to be ready to attend to the passengers on Flight 11. In Boston, she reported in at 6:30 for the departure from Logan International Airport. Flight 11 took off right on time, at 7:59.
Later that week, her longtime companion, Wayne Nichols, found among her things a folder she had kept hidden, filled with notes from passengers over the years. One, on the back of a receipt and dated Aug. 13, said simply, "Thanks for the service."
The zest and the love Bobbi had for life was exhilerating and she still had so much more she wanted to do!
She was survived by her longtime companion Wayne Nichols, her mother, older sister Sharon Arestegui and other siblings.